The work we do
Financial planning, investments, estate planning, tax management, and insurance, in collaboration when needed with your accountant, estate attorney, or insurance agent
Our consultative process relies on close relationships with clients, custom solutions, and systems to set those plans in motion.
We target and track progress toward walkaway wealth, protect assets from litigation, transfer wealth between generations, optimize education savings and tuition payments, and design retirement income streams.
Residents & Fellows 
You're almost ready to launch your career and soon to be faced with myriad important financial decisions.
Now is the perfect time to connect with an advisor and explore solutions for getting to zero student debt and beyond.
Early-Career Physicians
In your first years of practice, you face financial decisions that will likely impact the direction of your finances throughout your lifetime.
Target these crucial years and prepare the foundation for a work-optional lifestyle in the future.
Established Physicians
You're busier than ever, your assets are accumulating and you need to be sure you're on the right track.
You need clarity about when you can retire, your options in retirement, and whether you need to change course to improve your outcome.
 Just curious? Want to learn more about TriageMD?
A sampling of questions for which we regularly find answers: 
Cash flow
What is the best way for me to save?
How should I prioritize my debt?
Risk
How can I be sure my assets are protected?
Is my disability insurance adequate?
Do I need an umbrella liability policy?
Retirement
When can I retire?
What is my accumulation strategy?
How much can I spend in retirement?
Education
Which savings vehicles are best?
How do I balance college funding and retirement savings?
Taxes
Should I convert to a Roth IRA?
Is charitable giving a good strategy for me?
Estate
What are my values and goals?
What is my optimal estate plan design?
Investment management
We implement a disciplined, forward-looking investment process designed to anticipate market moves, making decisions based on historical price and yield relationships, instead of reacting to market moves and chasing performance after the fact. Our Dynamic Contrarian Portfolio StrategyTM approach has seven basic elements:
We track seven pairs of asset classes and flow funds systematically between them. Our baseline portfolios are adjusted to reflect five levels of risk tolerance.
Value and small-cap tilts
We over-weight value-oriented investment disciplines, under-weight growth-oriented disciplines, and slightly over-weight small- and mid-sized companies.
Contrarian asset allocation
We use historical price or yield data to determine the relative value of paired asset classes. When one asset class is meaningfully overvalued, we flow funds from the overpriced to the undervalued asset class.
In most asset classes, we use index funds, ETFs, or low-cost mutual funds from Dimensional Fund Advisors to drive down costs
Discretionary portfolio management
To make sure our strategy is implemented consistently and on a timely basis, we manage all investments on a discretionary basis.
Intentional tax efficiency
We choose which investments to own, and where to hold them, in order to deliver the highest after-tax returns.
We only invest in liquid and marketable securities that are priced and can be sold on every trading day.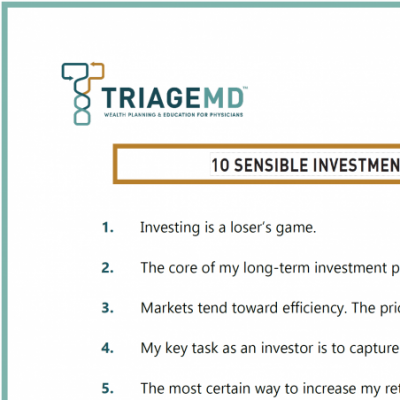 An investor mindset cheat sheet
10 Sensible Investment Principles
Get our one-pager, 10 Sensible Investment Principles. It's your mindset cheat sheet for successful investing with tips on:
the nature of the markets
a good financial advisor's role
how you should be thinking about performance
common emotions that drive investment errors
Previous
Next